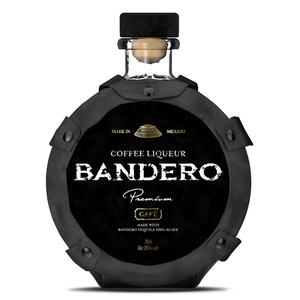 Bandero Tequila uses only the finest Blue Weber Agave, matured for seven years in the red clay soil of Jalisco's Los Altos Highlands. This is the quality of spirit used to create Bandero Premium Coffee Liqueur.
The flavour of shade-grown Arabica beans permeates and combines with the sweetness of the Agave to produce a deep rich liqueur. Enjoy over ice or as part of a cocktail. 
CURRENTLY LIMITED TO 1 BOTTLE PER ORDER
Due to the massive demand for Bandero Premium Coffee Liqueur, we have a very limited supply available. As such, we have limited the purchases to 1 bottle per order, so that more customers can enjoy this superb coffee liqueur.
The Drinks Aisle team are partial to a Bandero espresso martini.
40%
Bandero Espresso Martini Cocktail Recipe
50ml Bandero Premium Coffee Liqueur
25ml Premium vodka (Grey Goose)
25ml Espresso (freshly brewed and chilled)

Add ice to a shaker and add the ingredients.
Shake vigorously for approx 15 seconds and then strain into a chilled martini glass.
Add 3 coffee beans to garnish.