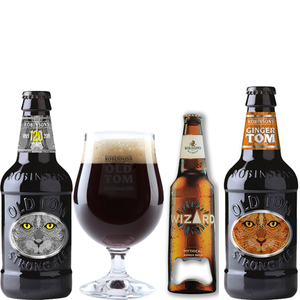 Give the gift of Old Tom! The "original" craft beer has been brewed by the Robinson family since 1899. One of the worlds most famous strong ales, it delights traditional drinkers and craft enthusiasts. 
Old Ginger Tom ale is specially brewed with an infusion of bruised Chinese ginger, creating a lively spicy beer.
We have combined two bottles of original Old Tom ale with two bottles of Old Ginger Tom ale, 1 Old Tom Chalice Glass, and a wizard bottle opener. PLEASE NOTE, THIS PACK DOES NOT CONTAIN A PRESENTATION BOX.