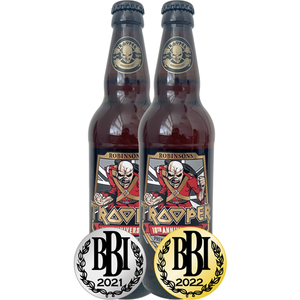 A 10th-anniversary limited edition label of Iron Maiden's Trooper Ale. AVAILABLE NOW!
The perfect gift for Iron Maiden fans, Iron Maiden Trooper is a deep golden ale with a subtle hint of citrus. Bruce Dickinson, Iron Maiden develops all the Trooper Beer recipes for the beers in association with Robinsons Brewery.
This gift pack contains 8 x 500ml bottles of the award-winning Trooper ale with a special limited edition 10th anniversary label.
4.7% abv