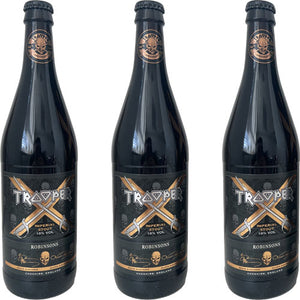 Celebrate 10 years of Iron Maiden Trooper Beers with 3 amazing LIMITED EDITION collector's items. Trooper X Imperial Stout is 10% abv.
Created by Bruce Dickinson and Robinsons' Head Brewer, Martyn Weeks, Trooper X is packed full of roasted malt flavours which perfectly balance the complex and delicious aromas. This is the ultimate super smooth sharing beer which, if you can resist drinking straight away, will mature in the bottle and get even better with age.
AVAILABLE NOW!
Drink It - Store It - Savour It
but whatever you do - don't miss it!